Hi, I'm Alison!
In 1986 I graduated in Dental Hygiene from John Abbott College in Montreal, Quebec and have since continued to practice as a Registered Dental Hygienist. In 2002, I moved from Montréal to the peaceful countryside of St. Eugene, Ontario and in 2009, opened my Independent Dental Hygiene Practice.
My work in health care and my passion for alternative methods of natural healing nurtured my interest to become a Reiki Practitioner in 2005, following which I ventured into the ancient practice of Ayurveda. Although I have undergone formal training at the Ayurveda Holistic Centre in Montreal and have been trained in Kerala, India and in Toronto, I do not practice these modalities during dental hygiene appointments.
I am naturally drawn to the use of natural ingredients in Dental Hygiene care and like to offer Clients an option to use Fluoride free, Dye free and Gluten free products during their preventative dental hygiene appointments. Organically home grown and ecologically wild crafted herbs, such as mint and spearmint are used in naturally prepared mouth rinses for use, before and after dental cleanings.
The Dental Hygiene Wellness Centre
The Dental Hygiene Wellness Centre follows the most current scientifically accepted infection prevention and control guidelines from the Public Health Agency of Canada, the Canadian Standards Association and the Provincial Infectious Disease Advisory Committee.
We use equipment, products, sundries and programs that have minimal impact on the earth's environment such as:
Low or no VOC containing paints and varnishes during renovation
An oil less, well filtered compressor
A dry vacuum pump instead of a wet pump
Chlorine-free, high post-consumer recycled paper products
Reusable and bio-degradable sundries
Hospital grade bio-degradable and natural surface disinfectants
Eco-friendly sterilization to eliminate the need for disposable autoclave bags
LCD instead of CRT computer screens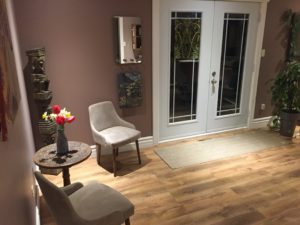 We would like to invite you and your family to come experience and learn about daily oral regimens, diet, lifestyle, natural and practical tips that will help prevent gum disease, periodontal disease, bad breath, dry mouth and cavities.
The Dental Hygiene Wellness Centre is located 20 minutes West of Hudson, Québec, in the country side of St.Eugene, Ontario and offers a "feel good" environment you will appreciate and enjoy.
Learn more about us with the links below.
Member of